Priority Dispatch Corp. (PDC) is the licensed distributor of the world's leading emergency dispatch technology. The company's flagship product—the calltaking software ProQA—is currently used by more than 1,600 agencies worldwide, and emergency dispatchers employ Priority Dispatch System (PDS) to process approximately 70 million emergency calls annually.
See what's new with ProQA
Why ProQA?
6 Reasons ProQA is Your Go-To Calltaking Software
Emergency dispatchers can now save time and improve accuracy, in essence, become "smarter" when moving to vital Pre-Arrival Instructions. After PDIs, ProQA now highlights a logically suggested DLS Link to the most-appropriate PAI based on the information gathered.
ProQA now delivers even greater accuracy while saving time during Key Questioning. Relevant AI, definitions, and lists, are automatically selected and appear highlighted in pink at the top of the AI window. Emergency dispatchers can scan the pertinent AIs at a glance without scrolling and searching, moving more quickly to DLS—again working "smarter." (Currently in Medical and Police)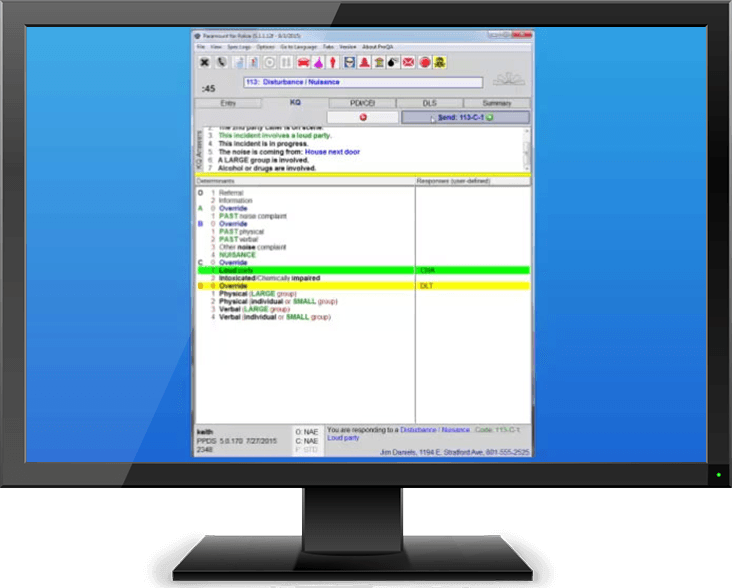 It guides dispatchers through providing all relevant Post-Dispatch Instructions (PDIs) and Pre-Arrival Instructions (PAIs). PDIs allow the dispatcher to provide Dispatch Life Support to the caller, while PAIs help the dispatcher transmit key patient information to responders en route
PulsePoint AED Integration
We're empowering dispatchers and citizens to help improve survival rates of sudden cardiac arrest (SCA). ProQAs integration with PulsePoint's AED registry means emergency dispatchers can direct callers to the nearest AED location right within the ProQA workflow, saving critical time during life-threatening SCA calls. Learn More
Computer-Aided Dispatch (CAD) Integration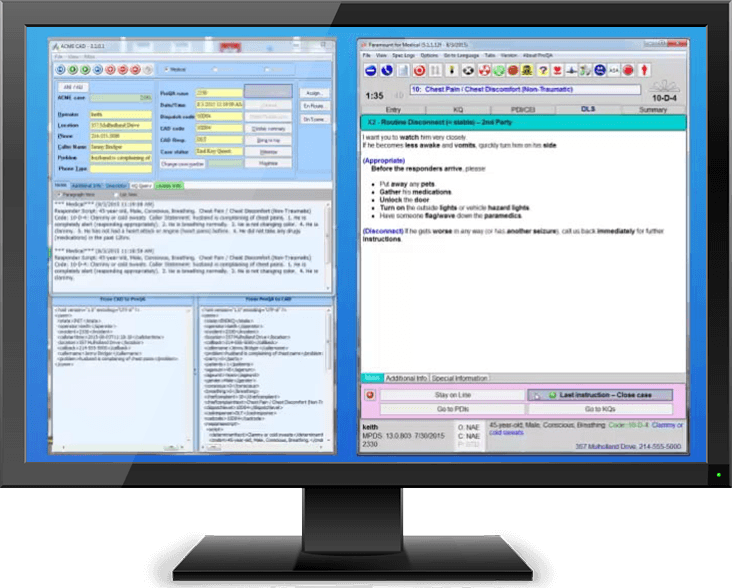 It seamlessly and efficiently integrates the power of the International Academies of Emergency Dispatch's (IAED) standardized protocols with more than 100 of today's state-of-the-art CAD technologies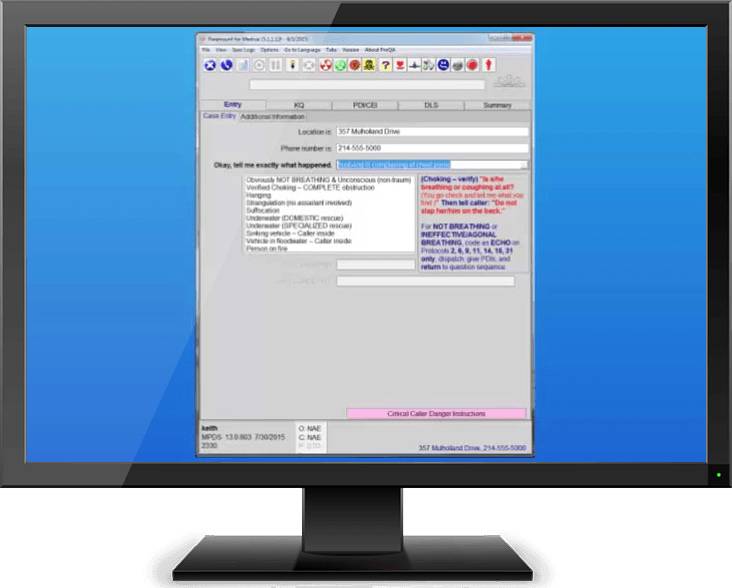 It helps the dispatcher move smoothly through Case Entry and Key Questioning to rapidly establish the appropriate Determinant Code for each case
Enhanced Description Essentials Tools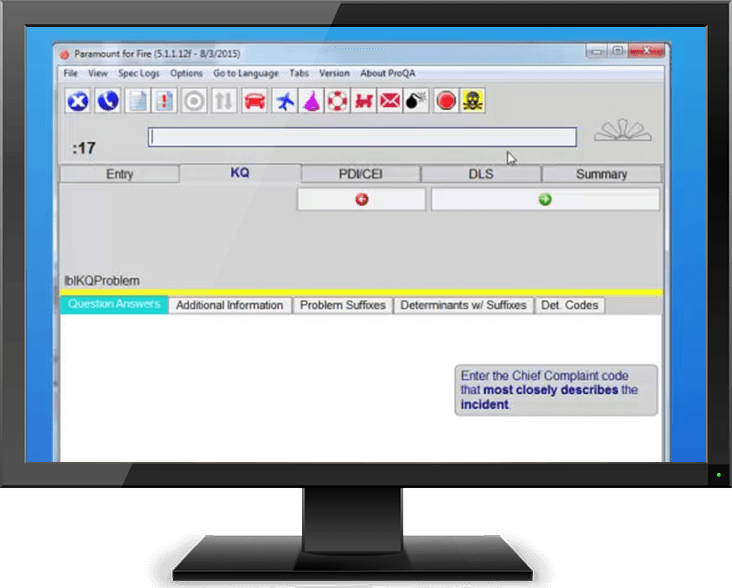 It provides the dispatcher with easy navigation and complete control over every aspect of the calltaking/dispatching process. All critical information is also readily accessible in real time by communication center supervisors
Advanced Burn Percentage Calculator
With the Advanced RULE OF NINES Burn Percentage calculator emergency dispatchers can select burn severity as 25, 50, 75, or 100 percent on each of the body areas, providing more accurate information to first responders for better outcome potential.
Benefits of ProQA
ProQA incorporates adaptive software that gives the dispatcher scripted panel-logic caller interrogation utilizing International Academies of Emergency Dispatch (IAED) protocols that expedite a response that best assists the caller/patient.
Through early detection of a priority driver, agencies experience faster times to dispatch
Built-in artificial intelligence eliminates unnecessary questions. Because of ProQA's "one question, one answer" architecture, agencies see higher compliance to protocol
ProQA gathers critical scene safety, suspect description, and weapons information to be relayed to emergency responders
ProQA tracks measurable performance goals for the communication center and allows each call to be reviewed in detail, boosting an agency's quality improvement program
ProQA ensures that your communication center meets universal best practice standards that reduce an agency's liability risk to near zero
Minimum System Requirements
Processor: Intel or AMD Dual Core or higher
RAM: 4 GB (highly recommend 8 GB or more)
OS: Windows® 7 or Windows® 10
Disk Space: 1 GB
Screen Resolution: 1440 x 900 (absolute minimum 1024 x 768)
Other: 10/100/1000 Mbps network card